ROOM TONE: A Monthly Mindfulness Night for Filmmakers
As one of our initiatives, CMV hosts meditation events that are designed to support mindfulness for filmmakers/industry professionals and provide them with networking opportunities.
They are on the second Tuesdays of every month in Los Angeles. You may attend in person or virtually for our community members who are outside of LA.
Room Tone: A Monthly Mindfulness Night for Filmmakers
Nov 12th, 2019 @ 7:00pm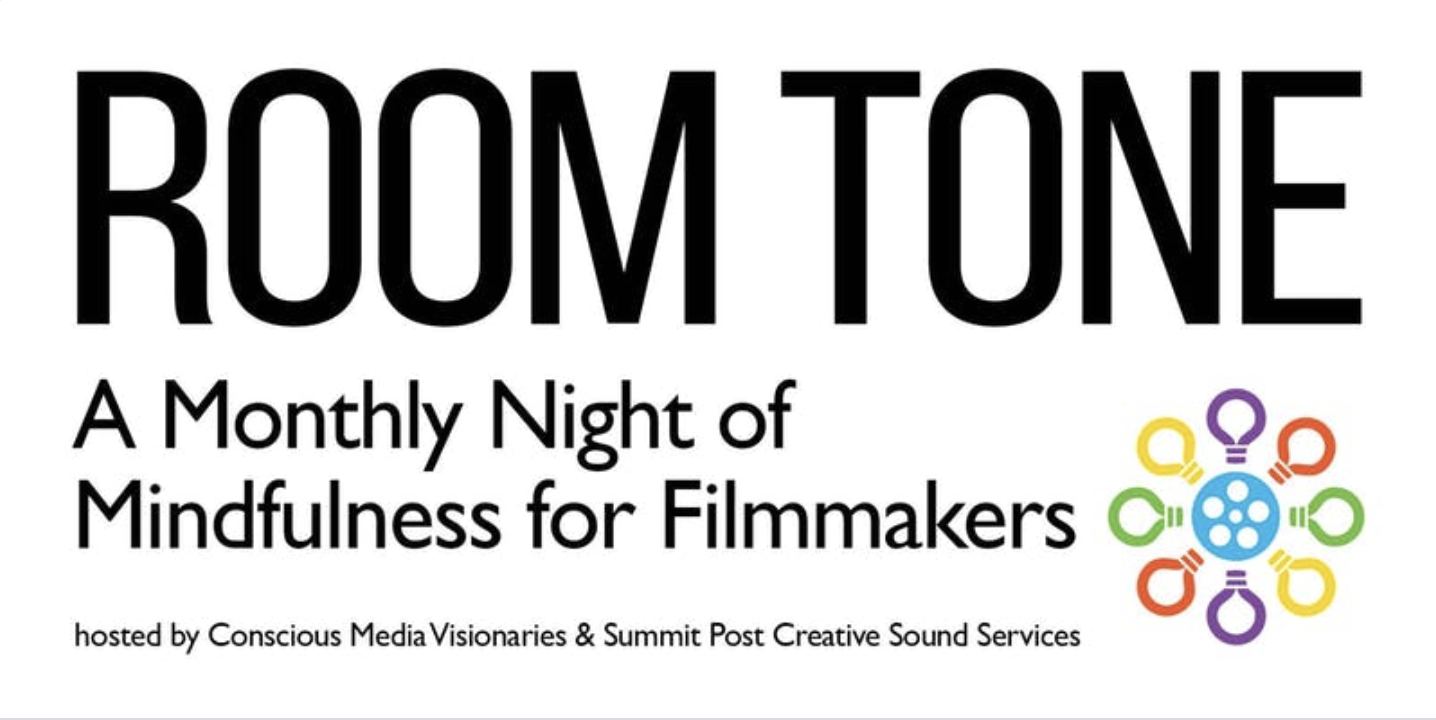 DESCRIPTION
ROOM TONE is a free, fun, and no-frills way to get your focus on! Join in this monthly, secular meditation opportunity.
<<Click "REGISTER NOW!" in the widget on the left<<
ABOUT THIS EVENT
Experience a few moments of inner peace with fellow entertainment industry creatives. No prior meditation experience is necessary – just an open mind and heart. The idea is: the goodness of whatever we experience while practicing a few moments of consciousness together might spill over into what we are creating – not just in the actual end product but into the process as well.
7-8:30PM
30-minute science-based, guided meditation starts 7:30ish
Time before and after meditation for mingling and connecting
Tea and cookies will be provided
***Exact Address or Zoom Call In Info Will Be Shared Only With Registrants After Registration***
Admission Fee: Free
LOCATION
For host's privacy, exact Address or will be shared only with registrants two days before event. Event is near Ardsley Place, Encino, CA 91436. Zoom Call-In info will be sent to registrants only.
FACILITATOR
The meditation will be led by Jae Ellard, founder of Simple Intentions, a conscious content company. For over a decade, her work has reached thousands of people in 50+ countries at companies such as Microsoft, Amazon, Facebook, and more. She is the author of seven books and hundreds of articles on awareness as a skill. Additionally, she is a Trained Mindfulness Facilitator (TMF) graduate from UCLA's Mindful Awareness Research Center (MARC) and is a member of the International Mindfulness Teachers Association. She has been practicing and studying yoga for over two decades and has completed course work in mediation, yoga, and mantra at the American Institute of Vedic Studies.
CO-HOST
Our co-host is Derek Vanderhorst, owner of Summit Post: Creative Sound Services. A Motion Picture Academy member with over two decades of experience, Derek has worked on over 130 feature films, episodic television, games, and new media, including in-house roles at Fox, Paramount, Universal, and Warner Brothers. He founded Summit Post in 2004 to evolve the post-production sound experience for directors and producers who are seeking deeper partnerships and more freedom in the creative process. He utilizes emerging trends and technology and offers more flexible, customized options for independent and major feature films. The studio is also our event location so ask for a tour!
To Learn More about Our Events and Workshops
Are you a Conscious Media Visionary? And even if you're not...
Be part of the conversation. Take the 11-minute survey about Conscious Media.
SIGN UP FOR THE NEWSLETTER